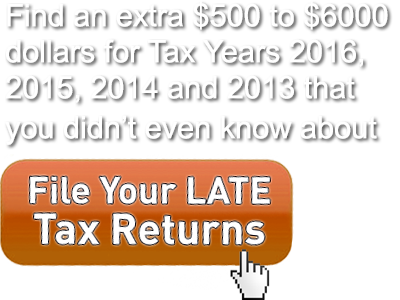 We make late tax easy
The thought of filing late tax returns can be daunting, so our mission is to take care of the headaches for you. There's no need to download any software – you can use our secure online tax system to find out quickly if you're owed a tax refund.
If you happen to owe the IRS prior tax, we can help with professional tax reviews and monthly payment plans so that you can get your back taxes in order – without the stress.
No payment until you file
Use our simple online system for free and check to see if you're owed a refund for previous year taxes. There's no need to pay until you're satisfied with your assessment and ready to file your return.

File your late tax return online NOW
· Late Federal tax return for the IRS
· State tax return
· Federal and state tax return
· Regardless of how old or late your tax return is!
Our online tax system is easy to use, but if you need help or have questions, just contact us using live chat or phone.